3D MAP TUTORIAL
CREATE YOUR OWN FREE 3D TOPOGRAPHIC (TOPO) MAPS AND SATELLITE IMAGES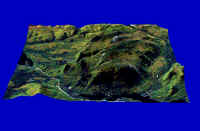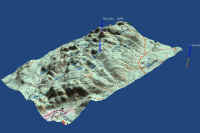 These 3D map images were created using software and files that are all available free on the internet. Putting a map or satellite photo into the third dimension really gives you a great advantage in visualizing the information...and it just looks cool! Want to learn how to do this? Just follow these steps. It's not complicated but it is time consuming. And a high-speed net connection is a "must"...but it can be done on dial-up if you're patient.
1. First download OziExplorer. It's available as a free trial version; just follow the link under "software" on the homepage.
2. Install OziExplorer on your computer. Put it in a directory such as C:\OziExplorer. Let the installation create a desktop icon for the TRIAL version - you MUST use the trial for this to work. The shareware version will be created as well, but it does not provide a means to display the images we are going to use.
3. Now you can download the 3D add-on from the OziExplorer site. Follow the link to OziExplorer3D under "software".
4. Copy the downloaded 3D program setup file to your OziExplorer directory (Our example would be in the directory C:\OziExplorer\OziExplorer). Then run the setup program.
5. Start up OziExplorer TRIAL using the icon created by the setup program (it should be on your desktop). Make sure that the 3D option is shown on the toolbar. If it's missing something went wrong with the installation. Try the above steps again.


This work is licensed under a Creative Commons Attribution-NonCommercial-NoDerivs 2.5 License.